REVIEWS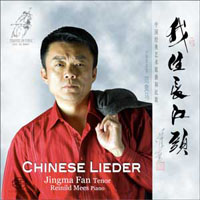 CHINESE LIEDER


Jingma Fan, tenor
Reinild Mees, piano


Channel Classics



Review by Dominy Clements - MusicWeb International - July 2008
My claim to an affinity with Chinese culture derives almost entirely from a period in which I worked as a freelance text editor - in English - for the Chinese embassy in The Hague. Part of the rewards for checking tourist brochures, speeches and articles on subjects such as the marvellous Hubei 'Chime Bells', a replica set of which recently toured in Europe, were gifts of numerous CDs of Chinese music in a variety of arrangements.
The idea of Chinese folk or traditional songs arranged as 'Lieder' with piano accompaniment, and sung almost as if they were Western in origin, might seem strange. If there is one thing I have learned however, there is no such thing as 'strange' when it comes to Chinese music. There will always be traditionalists and authentic ensembles which play purely on instruments of the periods from which the music derives, but commercial Chinese recordings of 'classical' music often quite freely and happily mix the old and the new. This can take the form of a fondness for string orchestras and the like, but also goes as far as introducing new harmonies with an abandon which make artists like Stokowski and Horowitz sound as if they were merely tinkering at the sidelines.
Jingma Fan won the third Cardiff Singer of the World competition, and has since performed all over the world in numerous operatic roles. His is a secure and expressive tone, with a fairly tight and rapid; what the Dutch would call 'strak' vibrato. He has plenty of colour contrast in his voice to be able to conjure impressions of tenderness and passion, even when one can't understand the words. As can be seen from the titles, the songs are mostly about nostalgia and romantic longings set in beautiful landscapes and countryside. Reinild Mees is a skilful and sensitive accompanist, but the piano arrangements more often than not sound like 1930s salon repertoire: variously a bit like Puccini, any number of operetta composers, or even Gershwin at times. In other words, there is nothing at all difficult about the music, and anyone put off by the idea of strange pentatonic harmonies or exotic melodic shapes will be pleasantly surprised by the accessibility of what is on offer here.
All of the texts are given in English in the booklet, and the last four songs are also sung in English versions. It is logical to zap straight to these in order to gain some kind of comprehensibility to the otherwise - to non-native speakers - entirely abstract Chinese singing, but these English versions of the texts largely serve to show how idiomatically the songs are written expressly for the Chinese language. In a swift song such as Mayeela it is easy to hear where the words don't quite fit, or have been compacted in order to retain their meaning, and the texts generally show a pretty random sense of non-poetry when translated. It is nice to hear some of the songs in English, but these examples provide as good a reason as any for keeping the original Chinese.
The SACD recording has plenty of extra acoustic information from Eindhoven's substantial Frits Philips concert hall. This is a location which proves as good for chamber music as for symphony orchestra however, and the sound and balance are well up to Challenge's usual top quality. With full text and listings in Chinese characters, and Channel Classics' "Channel of China" label variant it is clear that the company is targeting a growing market overseas. With this fine product as a calling card I'm sure they will do very well indeed.
Click here to read this review online at MusicWeb International.
Review by Ira Siff - Opera News - November 2008
A few summers ago, when I was taking a boat tour on the Yangtze River to see the Three Gorges before they were mostly drowned by the huge ongoing dam project, I was awakened every morning at 6:30 by instrumental versions of traditional Chinese songs being piped into the cabins. My traveling companion, a friend from Beijing who is not an opera singer, would supply the missing voice and text in a sweet, unaffected voice, making the seductive melodies almost lovely enough to turn the ungodly hour bearable, as would the ravishing views of the amazing gorges. With that in mind, I was looking forward to this CD of Chinese songs assembled and sung by tenor Jingma Fan, a participant in some very prestigious singing contests -- he was a finalist in both the 1987 Cardiff Singer of the World and the 1995 Pavarotti Competition -- and now veteran of a fifteen-year opera career.
Fan has worked hard on this project, to which he is obviously dedicated. He has not only chosen all of the material that he sings here but has himself translated the texts into English for the accompanying booklet and even recorded bonus tracks of four of the songs in English. In his notes, Fan expresses a desire to elevate the songs in some way by presenting them with piano accompaniment, rather than with "the accustomed primitive and naïve aspects of Chinese musical traditions." For this reason, Fan borrows the term "lieder" to frame the material. In no way does the singer intend to suggest any disrespect -- quite the contrary: his love for the songs and the poetry comprising their lyrics is apparent. But until the four selections repeated in English, the repertoire sounds a bit musically transplanted, if not apologized for, and perhaps the overall effect is diluted rather than enhanced by Fan's effort to "dignify" it.
Nonetheless, there is pleasure to be had here. Fan states his intent to slenderize his operatic voice to make it more appropriate to the demands of the music. He does so to a degree but retains the lovely spinning legato inherent in his instrument. In spite of the effort to pull back, ironically, the most satisfying moments come when his voice opens up. Also lovely are his floated head tones, employed but not overused in several of the songs.
The project was inspired by the tenor's nostalgia for his homeland during travels abroad as an opera singer. Perhaps this is why the texts of many of the choices reflect a longing for home. Surely, this is a universal theme expressed in the songs of many cultures, but there is a sameness that occurs here in the musical and vocal feel that diminishes the effect of individual numbers. The pieces are largely from the Song and Tang Dynasties (618 A.D. to 1279 A.D.) and from folk material, including Yunnan, Xinjiang and Kazak songs. Of course, lost love plays a part in this repertoire, as it does in many lieder, but there is also a wonderful Kazak song by, about and named for Mayeela, a famous poetess, singer and songwriter who literally sings her own praises. Fan delivers the very sentimental "Mama in the Candlelight" twice; the second time in English certainly could have been a major contender for the American Hit Parade of the 1950s. One thinks of Mario Lanza -- and you could do a lot worse!
Sensitive and discreet piano accompaniments are performed by the gifted Reinild Mees, one of Holland's foremost coach/accompanists and founder of the adventurous 20th Century Song Foundation.
Click here to read this review online at Opera News Online.
Review by Gerhard Persché - Opernwelt - November 2008
Fundstücke auf Seitenwegen
Aus dem Reich der Mitte kommt Jingma Fan, ebenfalls Tenor, der u.a. bei Carlo Bergonzi, Franco Corelli und an der Juilliard School in New York studiert und sich zur Aufgabe gemacht hat, das gegenwärtige Liedgut seiner Heimat zu vermitteln. Über die Komponisten erfährt man im Booklet (englisch/chinesisch) so viel wie in jenem des erwähnten koreanischen Recitals, nämlich nichts. Doch lässt sich mit einiger Mühe im Internet herausfinden, dass sie grosso modo Zeitgenossen über siebzig sind. Ihre Lieder sind Vertonungen alter Gedichte vor allem aus der Tang- und Song-Dynastie (618 bis 1279), freilich in einem musikalischen Duktus, der europäische Spätromantik zitiert (man kennt dies etwa vom berühmtem 'Yello-River-Concert', das auch Lang Lang in seinem Musterkoffer führt), gelegentlich an Puccini denken lässt und selbst operettenhafte Anklänge nicht scheut. Kenner der chinesischen Liedszene bemangeln die Auswahl des von 'Channel of China' veröffentlichten Albums; sie sei von der Qualität der Werke keineswegs repräsentativ. Immerhin widmen Jingma Fan und seine niederländische Klavierbegleiterin Reinild Mees sich dem Dargebotenen mit sympathischer Hingabe.
Click here to read this review online at OpernWelt.
Review by R. Moore - American Record Guide - November/December 2008
If you're looking for something off the beaten path, here is a novelty. And it's more than just a novelty; it's an effort to bridge the musical expressions of east and west. The title "Chinese Lieder" refers to some of the most beloved Chinese poetry of the Tang and Song dynasties (618-1279 AD) and some of teh most popular Chinese folk tunes arranged in styles familiar to western ears. We are not told who arranged these songs or when, but they display a curious range of styles, one sounding like a Neapolitan song, another vaguely like Puccini, and still others sounding like Chabrier, Stephen Foster, and even Gershwin with shades of Asian tonality. By western musical standards these sweet and gentle songs may sound simplistic, but they are pleasant and occasionally rather inventive.
Jingma Fan, winner of the third Cardiff Singer of the World competition, reports that he studied with Carlo Bergonzi to refine his bel canto technique and later studied with Franco Corelli. He has a robust yet agile voice, but his edgy, rapid vibrato is distracting. Not knowing Chinese languages, my untrained observation is that the elocution of certain sounds is muted or muffled in a way that seem to be produced by closing the throat and mouth. Such vocal production does not lend itself readily to western musical expression, and that will be evident right away as you listen.
Fan has supplied translations of the texts, and he repeats four of the songs in English as the final four tracks. He reports that some of these songs are required singing for participants in the biennial international vocal competition in Beijing.
Dutch pianist Reinild Mees is his capable accompanist in music that seldom rises above the unchallenging. The SACD sound is outstanding, aided by the fine acoustics of Eindhoven's Frist Philips concert hall. This release fulfills a personal ambition of the singer to present the music of his country to the west. If you want to expand your cultural horizon, this is a good chance to do so.